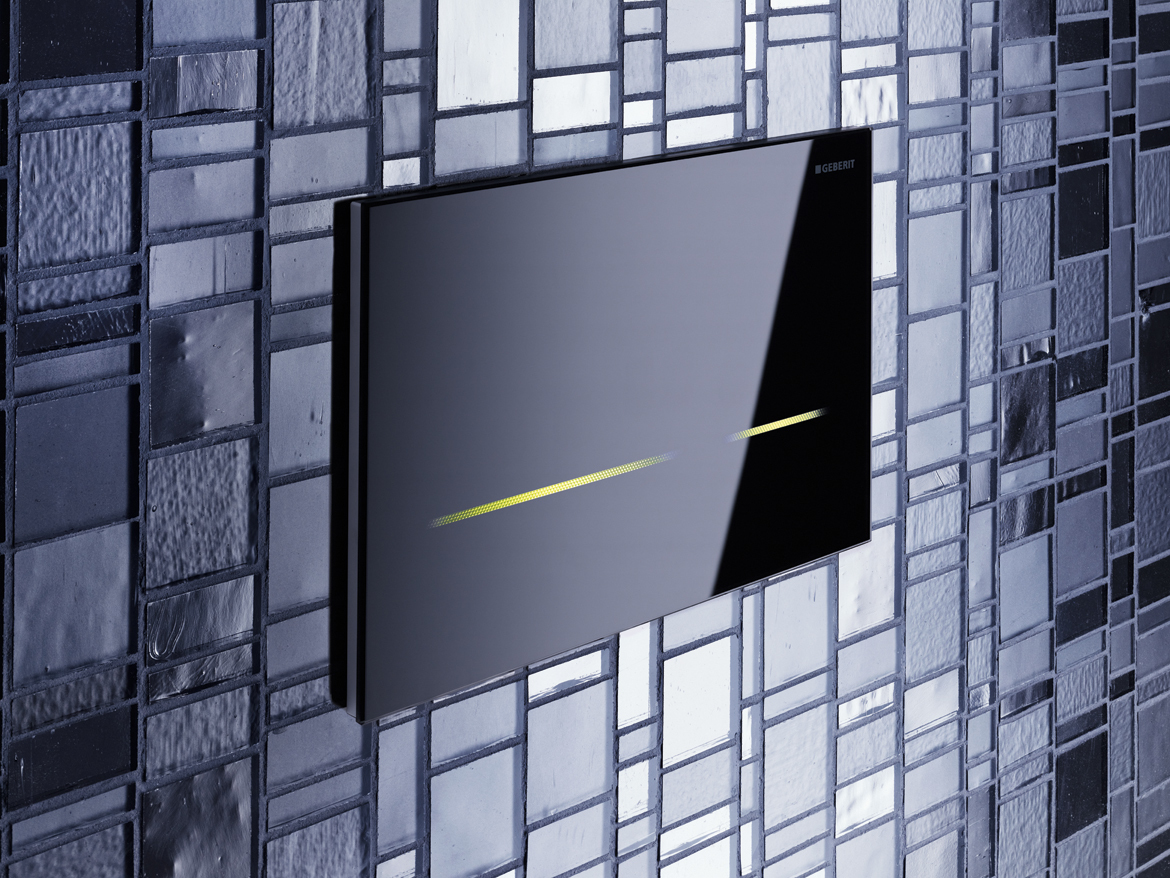 The future of flush plate toilet controls is here, and Geberit is announcing the latest technology updates to their most popular flush controls.
By Q4 of 2020, the global flushing systems market size reached $2.91 billion. Nearly two years later, experts predict it to reach a value of $3.82 billion by 2030 at a 2.5% CAGR. Geberit is one of the leading manufacturers of flushing systems.

With a dedication to enhancing the design and technology of their products, Geberit is eager to announce the latest updates to the Sigma10 and Sigma80 series flush plates.
Key Takeaways:
Geberit is a leading manufacturer of plumbing products and is eager to announce the updates to their latest flushing technology for their Sigma10 and Sigma80 touchless actuators.
The Sigma10 is getting an upgrade to its power, moving from 4V to 12V, and features updates to the BLE communications app, the Geberit Connect + Geberit Control App.
The Sigma80 is also getting upgrades to its power, just like the Sigma10, and the easy-to-use (and free) app replaces the formerly difficult hand programming.
The Geberit Control App is available for iOS and Android-powered operating systems, with free downloads available in the Apple App Store and the Google Play Store.
These smart toilet controls feature easy configuration, time-saving pre-settings, and profiles. Remote firmware updates add future functions and features automatically.
Geberit Toilet Controls' Power and Communication Updates
As a leading manufacturer of sustainable plumbing products, Geberit must constantly look forward to future-proof the power of the flush. The latest updates include better power options and BLE communication technology.
Installation is more straightforward than you think. This video below offers a brief tutorial on how to install the Geberit Sigma10 with Sigma80 flush controls.

Your facility's needs change over time, and you need flush technology that advances to meet those needs. Let's look at how Geberit is future-proofing two of their most popular flush plate, the control features now available, and what the future holds for this flush technology.
Future-Proofing Sigma10 Flush Plates
Style meets functionality with the Sigma10 flush plate. It features a water-saving dual-flush option with your choice of touchless or manual flush functionality.
Hardwire the flush plate or opt for battery operations depending on your design specs and restroom's layout. The vandal-resistant stainless-steel option makes these actuators ideal for commercial applications.
They come in seven color options with matte and polished chrome finishes, brushed stainless, black or white gloss, and gold-plated. With so many possible combinations, you're sure to find the one that fits your space's existing style and ambiance. Matching urinal actuators are available.
Sigma10 Updates for the Future
Free (no upcharge) BLE communication enabled with Geberit Control App
Transition to mains 12V (from 4V)
Clean specifications with new article numbers for BLE and 12V
Future-Proofing Sigma80 Flush Plates
Touchless has never been so easy. The Sigma80 flush plate features water-saving dual-flush functionality, touchless actuation, and low-energy LED lighting with five color options.
The surface is high-quality glass with two color options: black and ultra-stylish reflective glass. The award-winning design is sure to look great in any space, whether for commercial, retail, or residential applications.
If you are looking for freshness and hygiene without compromise, Geberit flush plates are sure to meet your needs – hands-free. Wave your hand over the actuator, or just walk away, and the toilet's automatic features will flush the toilet for you. Better hygiene should always be this easy.
Sigma80 Updates for the Future
Side and rear accent to matte black from matte chrome
LED lightbar selections
Transition to mains 12V (from 4V)
Difficult hand programming replaced by free Geberit Control App
Clean specifications with new article numbers for BLE and 12V
Geberit Connect + Geberit Control App
Control the function of your flush plates from the palm of your hand using your smartphone or tablet with the Geberit Connect + Geberit Control App, available for free for iOS in the Apple App Store or Android in the Google Play Store.
Use the demo mode as you learn to navigate the platform. For further assistance, request the training materials to help you learn how to use the latest advancements with the app and the system's technology.
Your flush controls work with the Sigma10 and Sigma80 series actuators. They work for concealed and exposed installations, and Geberit Selva and Preda urinals come integrated with these flush controls. Coming in 2023, Geberit will also offer this integration with their Tamina urinals.
Set and maintain your flush systems with smart toilet controls featuring:
Easy configuration and maintenance features with a tap
Time-saving features, such as saved pre-settings and profiles
Extend product life with remote firmware updates to add future functions and features
Focus for professionals (installers and facility managers)
One free smartphone application for all Geberit products*
* Smartphones only running iOS 14.0 and higher, or Android 8.0 and higher
The Best Part is What You Don't See
In the finest restrooms worldwide, flush technology hides behind the wall. A solution that's quieter, more hygienic, and offers unbeatable stability. Geberit makes it all possible with their in-wall systems.
When you match our in-wall tanks with our Sigma flush plates, you get the style and luxury at a price that will not break your budget. The Geberit Sigma system with matching plates offers exceptional flexibility, especially in pre-wall installations.
All our flushing systems offer guaranteed spare parts and tool-free maintenance. Only Geberit delivers the most expansive selection of reliable sanitary systems and flush plates.
With our latest updates and advancements still to come, the future of the flush is looking more flexible, sustainable, and sanitary.
Learn more about the latest advancements with our sanitary systems and the technology powering the flush in our resource center.