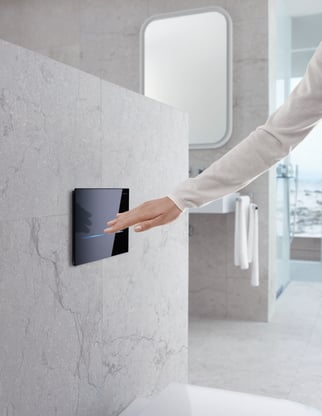 When designing restrooms for future construction projects, you have a lot to consider. Accessibility, size and pleasing aesthetics are just a few things on your list. Plus, for facilities that see a high volume of traffic, limiting the spread of germs is top of mind. As the ongoing COVID-19 pandemic continues to turn the world's focus to health and hygiene, here are five ways to reduce the transfer of germs in your bathroom design.
Why Go Hands-free in the Restroom?
Installing touchless, hands-free fixtures in the restroom is the primary way to prevent the spread of germs. From a doorless entry to a touchless toilet, eliminating the need to touch a surface will prevent the spread of bacteria and viruses.
W

hich Materials Increase the Transfer of Germs?

According to a 2018 study, the flush from a lidless toilet creates a fine mist containing fecal microbes reaching up to 65 square feet. Anything in that space is covered with the microbes, which may be further transmitted through inhalation or surface contamination. Therefore, choosing materials and fixtures that are resistant to contamination is paramount in preventing the spread of germs.

Covered toilet paper dispensers protect the tissue from absorbing the bioaerosol from the toilet spray. Non-porous materials in stall partitions, wall and floor coverings, and ceilings make cleaning easier and prevent the adhesion of dangerous microbes. To further prevent the spread of contaminates hanging in the bathroom air, provide paper towels rather than air dryers.
Five Products to Decrease Germ Transfer in the Bathroom
Touchless Flush—

The reason most of us visit a restroom in the first place is to use the toilet. People go to great lengths not to sit on or otherwise touch a public toilet. A motion-activ

ated toil

et

can eliminate the need for some avoidance maneuvers. Touchless flush toilets prevent users from touching handles that could harbor bacteria and germs or risking a fall by flushing with a foot. Both the

Sigma10

and

Sigma80

flush plates make toilet flushing a hands-free experience. Their stylish designs complement any private or semi-public facility and come in a variety of colors. Both include a dual-flush option and tamper-resistant features.

Sensor Faucet—Following the U.S. Centers for Disease Control's guidelines for handwashing, a person should lather with soap and then scrub the hands, fingers and wrists for at least 20 seconds. Proper handwashing is rendered useless if harmful bacteria is then reintroduced from a dirty faucet handle.

A recent study by the Special Pathogens Laboratory found that as many as 2,080 colony-forming units of various bacteria were found on the faucet handles of a healthcare facility kitchen. And because bacteria transfer more easily to wet hands than dry, installing touchless fixtures limits their spread.

The EQ touch-free faucet boasts plug-and-play installation and offers a long-term power system for up to 30 years of battery life. Its sleek, polished chrome curve is the perfect accessory for modern design. It's available with a pressure-compensating Econo-Flo non-aerated flow outlet of 0.35 gallons per minute.chless fixtures limits their spread.

Touch-free Soap Dispenser—According to an article in the Harvard Health Letter, studies show that "washing hands with soap and water for 15 seconds...reduces bacterial counts by about 90%. When another 15 seconds is added, bacterial counts drop by close to 99.9%." Of course, handwashing is one of the best ways to prevent your family from getting sick. But is soap really necessary?

Contrary to popular opinion, soap doesn't kill germs. It's the mechanics of washing with soap and water that removes them from your hands. According to the same article, "Soap increases the overall effectiveness by pulling unwanted material off the skin and into the water." So, yes, you want to provide soap dispensers in your bathroom design.

Foam handwash is more economical than full strength liquid and is easier to rinse off, saving water. Dispensing is easy, too, with GoJo's touch-free dispenser for PROVON foam handwash. Stainless steel construction that eliminates weaponization makes this the perfect dispenser for behavioral health facilities, as do its rounded corners and sloped top.

Plus, according to a study published by the American Society of Microbiology, a hot air hand dryer spreads the pathogens it takes in from the bathroom air (the ones that enter the air in the fecal cloud released from an uncovered toilet when flushed) to the freshly washed hands as they dry. Since this study, John Ross, MD, FIDSA, contributing editor of Harvard Health Publishing's Harvard Health Blog, proposes that paper towels are the most hygienic way to dry your hands.

Uline touch-free dispensers accommodate both 8- and 10-inch towels without electronics. Once a towel is torn from the roll, the dispenser releases a couple of inches of the roll for the next user to pull from.

Germ-resistant Toilet Partitions—When choosing flooring, wall coverings and partitions for bathroom design, you want something that will sustain high use and be easy to clean without absorbing moisture. Tile is often the top choice for floors and walls, but what about stall partitions? Here are a few options:

Powder-coated steel is durable and reliable in high-traffic areas. It's easy to clean and disinfect and resists rust and corrosion. Available in a wide array of colors, powder-coated steel toilet partitions work well for any design at an affordable price.

High-pressure laminate partitions are perfect for low-moisture environments. Available in a wider variety of colors and patterns than steel, they take your bathroom design up a notch with a small cost increase from than their steel counterparts.

Solid plastic partitions are non-porous, resist moisture and hold up under the strongest cleaners. The partition of choice in the most germ-laden areas, solid plastic also holds up to high traffic and vandalism. Available in many color options, the sleek look of plastic is both practical and aesthetically pleasing.

Phenolic partitions include a solid resin core laminated with a melamine cover. They are resistant to moisture and germs and come in a variety of colors.

Stainless steel is the most durable and costly option to choose from. Germ-resistant stainless steel stands up to frequent cleanings and the abuse of high traffic. Its classic, sleek look complements any bathroom design.
Carol J. Alexander writes website copy, blog posts, and feature articles on home remodeling and building topics from her home in the Shenandoah Valley of Virginia. Notable clients include Chicago Faucet, Atlas Roofing, and CertainTeed.