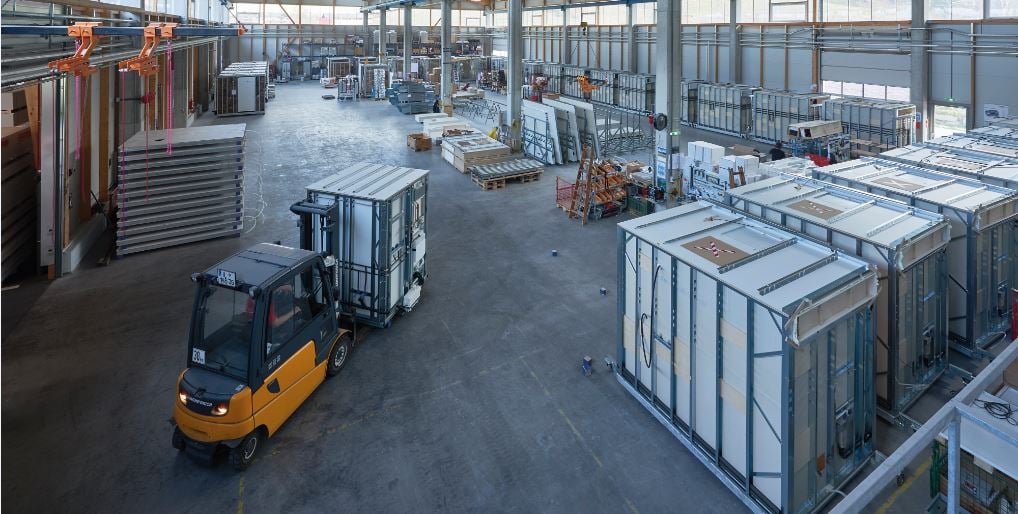 The housing market's in good shape, despite the pandemic. In June, sales of new single-family homes in the U.S. approached a 13-year high. Even before the pandemic, the S&P/Case-Shiller U.S. National Home Price Index showed steadily increasing demand since 2013.
For modular home builders, this is great news. People still want to buy houses. In fact, the pandemic may have accelerated home buying. Owners who were previously happy with their urban dwellings are now looking for spacious houses, so they can work and learn from home.
But there is one big problem: The market simply isn't building homes fast enough. According to one report, the 5.9 million homes built in the U.S. between 2012 and 2019 are not nearly enough to accommodate the 9.8 million households formed over the past several years. Analysts say it could take another five years to balance the market.
Modular Building is the Housing Market's Sustainable, Affordable Answer To Unmet Demand
Modular homes are constructed as sub-units off-site and then assembled on site. They recently regained popularity as productivity lags in the construction sector raised concerns about a housing shortage. Modular homes have an impressive track record of accelerating construction project timelines by 20 to 50%. Research from management consulting firm McKinsey predicts that modular homes could lead to cost savings of 20 percent if properly embraced across the entire real estate value chain.
So why have modular homes lagged behind stick-built homes?
Because for decades modular homes have been viewed as a cheaper alternative to stick-built homes. In recent decades, the use of digital manufacturing techniques as well as higher quality materials have reduced much of this criticism. The remaining features of modular homes are positive: potential cost savings, faster project timelines, and sustainability.
Indeed, experts predict global construction waste will hit 2.2 billion tons by 2025. Attempts to build sustainably are often unsuccessful. It's expensive to sort the materials, acquire containers to hold them and pay for trucks to take them away. The National Association of Homebuilders estimates that over 8,000 pounds of waste winds up in a landfill as a result of "stick building" one 2,000 square foot home.
On the other hand, the nature of modular home building makes it easier – and oftentimes more profitable – to be sustainable. Modular builders purchase materials in bulk, reducing the amount of packaging. Plus, materials purchased in bulk, such as lumber, are often cut to the desired length.
In addition, modular builders work on several homes allowing them to use leftover materials on the next home rather than discard them as a traditional builder would. Moreover, modular building takes place indoors, reducing the chances of damage due to weather conditions. If materials arrive damaged, they can be returned to the supplier instead of discarded.
On traditional build sites, materials are often disposed of, altogether, in a larger dumpster and eventually taken to the landfills. In a modular factory, spare pieces are sorted into separate bins and reused easily.
What Stands In The Way of Widespread Modular Home Building?
Modular homes have grown in popularity in countries like Japan and Scandinavia, and they have a special appeal in places where construction labor is hard to find like Germany, the U.S. West Coast, and the southern United Kingdom. But there's a big problem that's hampered their growth – a perception problem.
Consumers have been trained to think of the words "cheap" or "cookie-cutter" when they hear the words "modular" or "pre-fabrication". A house is the biggest investment most Americans will make.
It's understandable that this perception would prevent them from buying such a house. But this perception is just that – a perception. The advancement in building materials and manufacturing processes takes away any real criticism of the quality of modular homes.
This means that the modular home industry has a big objective: Transforming modular homes into an appealing option for mid-range and luxury buyers.
How Can Modular House Builders Transform Consumers' Perceptions of Pre-Fabricated Homes?
It's up to modular home builders to effectively market modular homes. But what should they focus on to accomplish this?
Re-branding "modular" as a proud feature: Builders must embrace branding and education strategies to transform the perception of the word "modular" among homebuyers.
Highlighting the reduced financial risk to consumers: Pre-built modular homes experience fewer delays than stick-built homes.
Installing high-end features in your pre-built home: Builders must source and select high-end, high tech features and finishes, especially for kitchens and bathrooms.
Spotlighting the sustainability of modular homes: Modular homes have a smaller impact on the environment compared to pre-built homes.
Emphasizing the opportunities for customization: Contrary to popular belief, modular homes are customizable, especially when builders offer a range of high-tech, luxury features.
Boosting development profits through upgrades: Builders can form strategic partnerships with appliance manufacturers for high-tech wholesale products to sell at retail prices.
Learn more about marketing strategies for modular homes in our upcoming webinar, "Modular Home Developments: The Solution to High New Construction Demand".