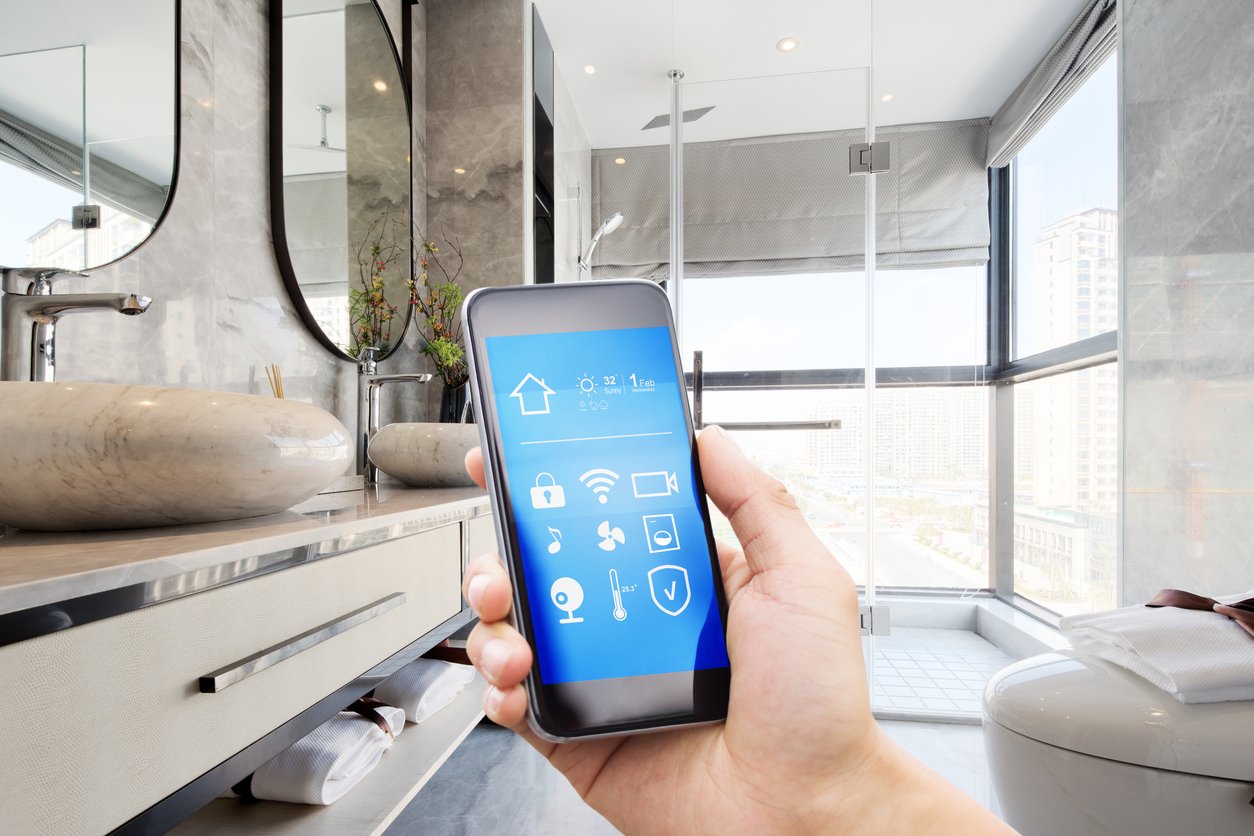 These days, AI-powered devices are everywhere, including smart home bathrooms. While digital home technology is nothing new, smart bathroom advancements are released every day.
There are several ways to incorporate smart technology into your bathroom renovation project. Here's how to build a smart bathroom to meet your and your family's needs.
Key Takeaways:
Smart bathrooms are restroom fixtures with smart features such as automatic and touchless systems you can program.
There are seven smart fixture must-haves for smart bathrooms, including flush plates, high-tech toilets, interactive mirrors, and digital showers.
Over 229,000 germs live on every square inch of your faucet. Touchless fixtures reduce the risk of touching contaminated surfaces.
What Is a Smart Bathroom?
Smart bathroom technology is a more modern way to interact with your bathroom and its fixtures, using advancements in voice commands and smart home systems.
A smart bathroom links digital plumbing fixtures to your home's smart devices, such as voice control devices, smartphones, and other digital systems. It offers users total control over the fixtures in their bathroom.
Customize your home's lavatory with smart home technology for your bathroom. Set water temperatures, flow rates, and notifications for system updates and alerts.
7 Smart Fixtures for Designing a Smart Bathroom
There are seven must-have fixtures when installing advanced smart bathroom technology. Here's what the latest innovations are trending for smart bathrooms:
1. Smart Flush Plates
The latest in flush plate technology allows you to control your actuators using Bluetooth controls from your smartphone. Program the toilet to flush in intervals to reduce stagnant water from growing harmful bacteria.
Set flow rates and touchless options, manage usage, detect leaks, and estimate utility costs with a modern flush plate. They're also available for urinals to give every user a futuristic flush. Save money while improving hygiene with a smart flush plate.
2. High Tech Toilets
Toilet technology has come a long way since Sir John Harington introduced the first indoor toilets in the 1590s. (Yes, Sir John is the reason people call a toilet a "john.") While the basics of the flush haven't changed, upgrades to the technology have.
The top features of a smart toilet include:
Seat warmers
Automatic lids
Dual flush actuators
Speakers
Night lights
And more
Like smart flush plates, smart toilets can detect leaks, conserve water, manage usage, and estimated utility costs. They also allow you to set self-cleaning options between use.
3. Interactive Mirrors
Mirror, mirror, on the wall, what will the weather be this fall?
Smart mirrors are taking smart bathroom technology to the next level by broadcasting the daily news, weather, and traffic reports while users get ready.
LED lights around the rim of the mirror offer an ambient glow to help users relax as they unwind at the end of the day, soaking in the tub with mirror-provided mood lighting. Some even enable integration with digital voice control devices, like:
Alexa
Google Assistant
Apple's Siri
Samsung's Bixby
That way, users can program their smart mirrors using voice commands or a smart device. A digital keyboard and small screen are available in some more advanced smart mirror models.
4. Digital Showers
Everyone can thank a man named William Feetham for inventing the modern-day indoor showers back in 1767. More innovations came in the 1850s with the help of indoor plumbing becoming more prevalent.
However, it was in recent years, with the dawn of digital smart shower technology, that has made the most advancements. Use a smart device to turn on the shower while you rest comfortably in bed, waiting for the water to reach the ideal temperature.
LED showerhead lights will tell you when the temperature is just right. Program flow rates, water pressure, and pulsations using your smartphone or from the digital display in the shower and get the perfect, relaxing shower every day.
5. Automatic Leak Detectors
Smart bathrooms not only offer luxury fixtures. They also offer leak detection, allowing you to catch a leak before the damage shows up on your utility bill.
Receive notifications to your smartphone whenever the system detects a leak. It can tell you where the leak is in the bathroom's plumbing so that you can close the correct water shut-off valve and make necessary repairs.
Various leak detection systems are available, and several fixtures boast this feature, including faucets, bathtub spouts, and toilets, along with smart shower devices. There are even models available for appliances that detect pools of standing water resulting from a leak.
6. Smart Faucets
Smart faucets are the best way to introduce proper hygiene to everyone using your bathroom by giving them a touchless smart fixture to wash their hands. Bathrooms are some of the germiest places in a home.
There are 229,000 germs per square inch on the handles of sink faucets. Smart faucets will reduce the number of contaminated bathroom surfaces people touch.

Programmable smart faucets allow you to check water usage, set flow rates, and determine metering settings that best suit the traffic of your bathroom.
When you install smart faucets, you ensure that you get the right amount of water at the desired temperature without touching contaminated surfaces with each use.
7. Smart Bathroom Speakers
One luxury item every smart bathroom needs is an in-wall stereo system that is voice-activated and fully programmable. Opt for water, moisture, and humidity-resistant speakers that provide the highest quality sound (and won't break your budget).
You can also integrate the stereo system with your digital shower display to listen to music while taking a shower or relaxing in the bath.
Finding Smart Bathroom Technology for Your Project Has Never Been Easier
At Geberit, we have been innovating bathroom technology for over 125 years. We have the smart bathroom technology perfect for your next project, from touchless flush plates to programmable digital fixture controls. Whether you're working on a construction project for a client or looking to renovate your bathroom, we have the latest plumbing products your love.
Contact us today to speak to a friendly representative who can help answer your questions about our latest plumbing technology.