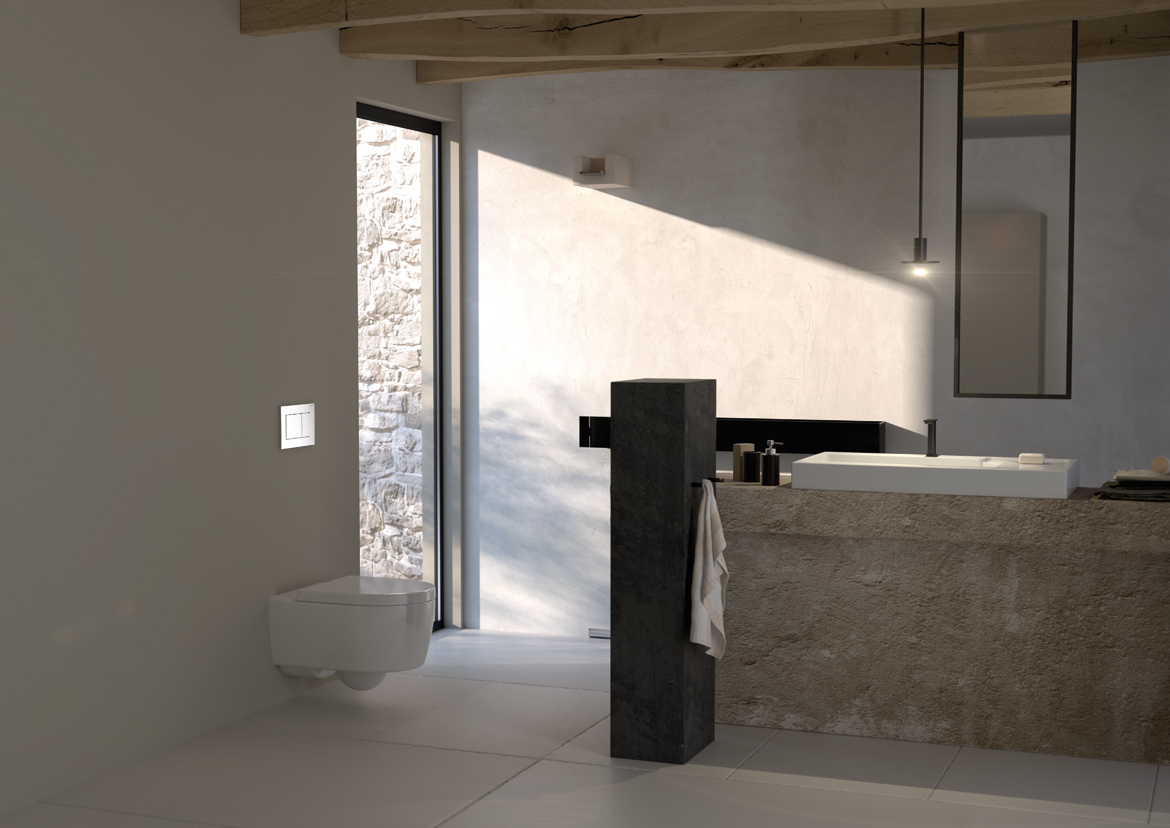 Toilet: Keramag iCon xs; Geberit actuator plate Sigma30, stainless steel brushed Washbasin: Keramag iCon 124190
As the world continues to face various shelter-in-place orders, the home remodeling industry is booming. According to Houzz, 79% of homeowners surveyed are considering major home remodeling and design projects after being stuck at home. Since bathroom remodels are one of the top priorities, it's a great time to review the hottest trends of 2020.
1. It's All About Tubs
With nearly a year of isolation, bathroom design has been trending toward comfort. We need another home-based way to relax and de-stress during this crazy year of COVID-19. Bathtub design trends top our list.
Check out all the different tub shapes and designs that have evolved this year. Although most still have the basic oval idea, this year's designers have managed to tweak the typical tub mold just enough to be unique and turn heads. Details like the sides, rim, and feet and the placement of free-standing tubs, add to the ambiance. Although white remains the favorite color, a few designs incorporate unique hues and accents. Round tubs, probably a favorite for children who look for any excuse to get wet, have been an exciting addition.
No room for a freestanding tub or no windows in your master bath? No worries. Consider the popular bathtub nook, recessed and tucked in a corner or one single side of your bathroom. By bringing in a partial wall around your bathtub, you create a cozy, semi-private nook to rest, escape, and forget the troubles of the day.
2. Back to the Earth
We've seen a love affair with stone and natural-looking design materials like precious metals, natural textures, and a return to an earthy feel. Although they may not be practical in terms of cleaning and creature comforts, they are unusual, beautiful, and may be perfect to wow your guests.
Rough, rock-like floors could benefit from comfy bathroom rugs to make them a little easier on bare feet. Consider a natural stone sink for a guest powder room that doesn't have to bare the brunt of daily use to make clean-up a bit less of a chore.
According to Rustic Sinks, it's critical to remove stains quickly due to the porous nature of stone sinks. Regularly cleaning with a brush can help ensure mineral deposits do not build up.
While you're at it, incorporate matching elements like a beautiful toilet flush plate from Geberit. The company recently released new earthy surfaces like black walnut, concrete, gray linen, and dark rock and precious metal accents like red gold and brass. These eco-friendly flush plates make cleaning easier as they reduce touch in restrooms and are perfect for small spaces that require greater accessibility.
3. New Ways to Share
Ever since the double bathroom sink and vanity were invented to minimize early morning fighting between siblings, partners, and roommates, the design possibilities have been endless. This year, we've seen some unconventional double vanities enter the bathroom showrooms, including two side-by-side single vanities. Solidifying the "my space, your space" division, these attractive options take a little more room but may be worth it for the beauty -- and extra peace.
Clients complaining about standing side-by-side while sharing sink space? Another unusual way to share the space is in the island-design of a double vanity. Facing each other while washing up may facilitate a friendly morning conversation if you have the space for this unusual bathroom sink set-up.
4. Asymmetry Design
For smaller bathrooms or ones that may welcome guests more frequently, consider incorporating an asymmetrical mirror. This simple design element adds a great deal of visual interest to a restroom without disturbing the room's balance. In addition, asymmetrical design adds a more casual feel to a space. Another asymmetrical option is to offset a mirror, so it's not directly over the sink, adding a unique perspective and feel to your powder room.


5. A New Take on Tile and Grout
For decades, a mainstay of bathrooms, tile and grout has been used for flooring, walls, accent designs, and backsplashes near tubs and sinks. In 2020, bold colors with a glossy sheen have stepped into the tile-and-grout design arena. Not only unique and beautiful, but they are also practical for cleaning and water resistance. Along with bright, shiny, color-filled tile, sweeping grout lines add interest to this year's design.
Source: Interior + Sources

According to Interior+Sources, non-rectangular and mixed geometric shapes have added to the unusual bathroom designs. Speckled surfaces as well as gemstone-style materials that convey a sustainable, counter-cultural feel are popular as well.
6. Customize Your Commode
This bathroom essential has all the potential to add to the bathroom's design and beauty. In 2020, we've seen toilet seat covers come back into popularity, providing you a simple and affordable way to upgrade your bathroom with a little extra depth and texture. It was a trend that was fueled pre-pandemic as the vacation rental business boomed and property owners looked for affordable ways to change the feel of their bathrooms for guests.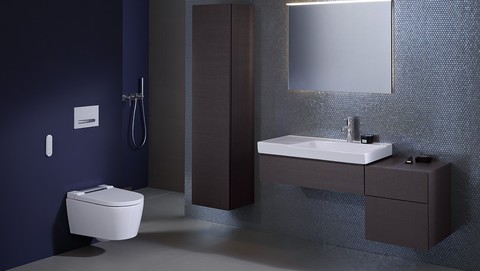 Actuator plate: Geberit Sigma50, white glass
Beautiful flush plates and designs that set the toilet tank behind the bathroom wall open up space and add an element of sophistication. Selecting a beautiful toilet flush plate from Geberit gives you another way to customize your commode with 25 colors, multiple materials, lovely accent options, and four different finishes for the frame and buttons. Custom overlays are available as well.
Conclusion
As you take advantage of the increased demand for bathroom remodels during the pandemic, be sure to share these top design trends with prospective customers. Homeowners are seeking ways to make their homes more comfortable, beautiful and functional as they continue to social distance and hunker down at home. Help them do just that.